Smog and Particulate Matter have been covering more and more of China's urban cities skies for the past few decades. Record high amounts of particulate matter were discovered in Beijing in the mid-2000s, just when the Olympics were going to be held there. The air pollution problem in China has been well known to international organizations such as the World Health Organization and the United Nations, but it wouldn't be surprising to hear that relatively few people in China actually know about the severity of the problem. This is because China's government often covers up data that they have recorded concerning the air quality. It has also been contended that the Chinese government "fudges" the data that they report to international agencies about air quality.
However, a growing trend has started among environmental activists in China to actually test their own air, instead of relying on government information. The New York Times posted an article by  SHARON LaFRANIERE, January 27, titled "Activists Crack China's Wall of Denial About Air Pollution." These activist groups have purchased their own air quality monitors and have agreed to lend them out to citizens so that they may collect their own data  on the air quality in their cities. The attention that these activists have gathered a call to action from the Chinese government in which have begun to accurately track and record the most finite of particulate matter, 2.5 microns. Ma Jun, director of the Institute of Public and Environmental Affairs, a Beijing nonprofit group makes this statement regarding the recent activism, "At the beginning of last year, we had almost lost hope that the PM 2.5 would be integrated into the standards," Mr. Ma said. "But at the end of the day, the people spoke so loudly that they made their voice heard."
Hopefully China's recent involvement in controlling their air quality will continue as the project manager of the PM 2.5 monitors are currently on a 2 month waiting list.
http://www.nytimes.com/2012/01/28/world/asia/internet-criticism-pushes-china-to-act-on-air-pollution.html?pagewanted=2&_r=1&ref=earth

China's Most Polluted Cities: http://www.china-briefing.com/news/2011/09/28/chinas-most-polluted-cities-who-index.html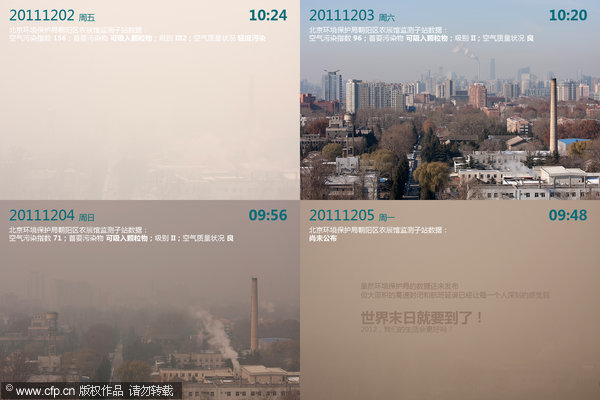 "This is a photo of China's capital taken from the exact same spot over the last four days. The combination image, taken from Dec 2 to 5, captures staggering changes in the air quality in Beijing. The photos show the visibility in the area ranging from Central Business District in Chaoyang District to Communication University of China. A photographer consecutively took photos at this same place for two weeks from Nov 22 to Dec 5 to record the "fog" in this area. The recent frequent "fog" blanketing Beijing has spurred the public to call for a revamp of the air pollution regulations in China, in particular the decision to monitor levels of ultra-fine particles known as particulate matter 2.5 (PM2.5) which is deemed by some experts as the major cause of the choking smog. [Photo/CFP]"
http://www.chinadaily.com.cn/photo/2011-12/06/content_14220234.htm